Application Process
In November, the Grants Committee reviews all grant applications. The Board of Directors will then act on the recommendations of the Grants Committee in determining grant recipients. All grant applicants will receive written notification in January.
Do you qualify?
To be awarded a grant through the Community Foundation of Chippewa County:
Your project must benefit the people and communities of Chippewa County
Your organization must be a 501(c)(3) nonprofit organization or a public charity as defined in section 170(b)(1)(A) of the Internal Revenue Code (IRC) (i.e. Churches, schools, government entities, etc.)
Resources for Grant Applicants:
Click the link below to get a list of requirements needed to apply for a Community Needs Grant and a list of FAQs that can be a valuable resource to you during the application process.
Resources for Grant and FAQs
Community Needs Grant Timeline
Northwestern Bank Mini-Grant Timeline
Grant Recipient Resources
List of Previous Year Grant Recipients
Grant Progress Report
We Favor Grant Proposals That:
Originate in Chippewa County and demonstrate strong volunteer involvement
Promote collaboration and reduce service duplication
Help people help themselves
Build upon the strengths of communities
Make a tangible difference in meeting an important community need
Demonstrate a high level of sustainability
Generally, Grants Will Not Be Funded For:
Routine operating expenses, annual campaigns and/or endowment, re-granting by another organization, direct support of individuals, lobbying or political organizations, and ongoing/repeat grants to the same project.
Community Needs Grant Application Below:
The current grant cycle is now closed. Grants will be announced in January.
Northwestern Bank Mini-Grants
Because of Northwestern Bank's generosity, school mini-grants (up to $300 each) are available to Chippewa County 3rd through 8th grade educators to fund innovative learning and motivational activities or service learning projects for their students. The 2022-23 grant cycle will open August 29, 2022. You can request an application by emailing the Foundation at grants@yourlegacyforever.org. All grant applications are due by 4:00 PM Thursday, October 6. Proposals meeting the required mini-grant guidelines will be reviewed by our Grants Committee in November and be presented to the Board for approval in December.
Response-Recovery-Rebuild Fund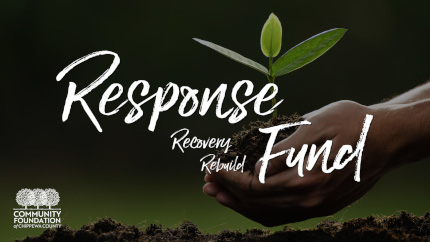 The RRR Fund was opened in April of 2020 to support immediate, mid-term and long-term response, recovery and rebuilding efforts in times of crisis with the goal of identifying local needs and gaps in funding and then assembling and applying grants funds where they are most critically needed to relieve distress in our area.
At this time, the Fund is not accepting applications